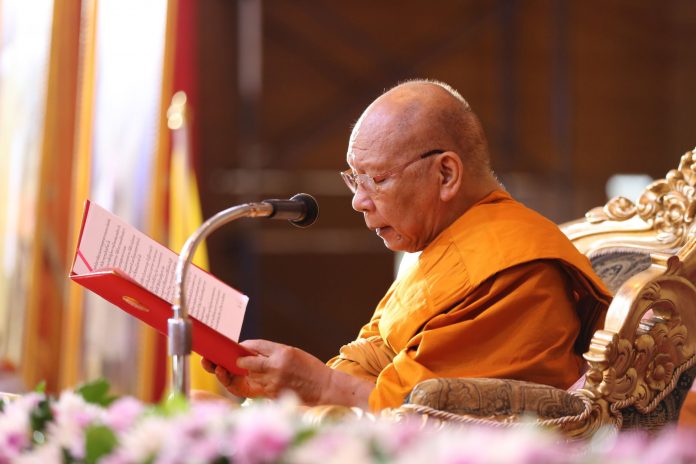 1 July 2563/2020, MCU: Most Ven. Somdet Phramaha Thirachan, a Member of the Executive Supreme Sangha Council of Thailand, Chairman of the Regulatory Office for Overseas Dhammaduta Bhikkhus (RODB) and Chief Abbot of Wat Yannawa, has been assigned by His Holiness Somdet Phra Ariyavongsagatanana, the Supreme Patriarch of Thailand, to be his representative to preside over the conferring certificates and closing ceremony of the Training Program for Overseas Dhammaduta Bhikkhus Class 26th/2020 at 48th Birthday of Maha Vajiralongkorn Auditorium Hall. Mahachulalongkornrajavidyalaya University, Ayutthaya.
Most Ven. Somdet Phramaha Thirachan conferred the certificates to graduated Bhikkhus and Prof. Dr. Phra Rajapariyatkavi, Rector of MCU, gave the report in this occasion and then Phra Sophonvachirabhorn, Vice Rector for Foreign Affairs, announced the names of trained Bhikkhus, whom were completely successful under the training program for three months (27 Feb-29 May)
The closing ceremony of Overseas Dhammaduta Bhikkhus training program, class 26th was organized at the auditorium Hall MCU, Ayutthaya. This event is participated by Senior Sangha member, MCU administers, students, supporters and devotees as well. The training program of three months was chaired by Phra Sophonvachirabhorn, (Sawai Chotiko), Vice Rector for Foreign Affairs, Executive committee, Dhammaduta College and administer of International Relations Division of MCU to manage the programs.